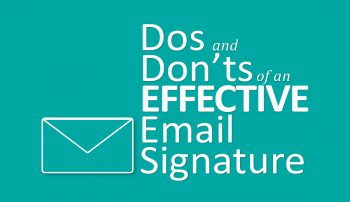 Dos and Don'ts of an Effective Email Signature
First impressions can make or break a business, and perfecting all the tiny details may seem time consuming and unnecessary, but they are just as important. For example, the design of your company's email signature is just as imperative to your brand image as the design of your next print ad.
A properly composed email signature communicates a higher level of legitimacy and professionalism to anyone who receives it, and it provides instant brand recognition for your company.
Thus, make sure to design your email signature. This may seem obvious to some; yet, for those who are new to the market, the design of their email signature may be the last thing on their mind.
Here are some dos and don'ts that you should keep in mind whilst designing your company's email signature:
DO: Format your email signature.
Give your email signature format as much thought as a marketing campaign. Finding a balance between text and image size is key to avoiding clear disproportion between graphics and text/content.
DON'T: Use a single image as your email signature.
Images may show up precisely as you wish them to in an email, but they take up a lot of space. This means that you would have less space for sending attachments in an email. Additionally, many email platforms mark emails with images as spam, which means your email could be delivered into the junk folder of your recipient.
DO: Consider the use of colors in your email signature.
Color can make your signature pop, especially if the email you're sending consists of a lot of black text.
DON'T: Use too many colors.
Colors should be used in moderation. When used in excess, colors may make your signature appear child-like and unimpressive.
DO: Include you company's logo.
Placing your logo in as many locations as possible will help to create brand recognition. The more recognizable a company's logo becomes, the better.
DO: Follow company brand standards.
This is another basic design element, and it is very important to take into consideration. Having consistent brand standards across all forms of media is key to the success of any brand.
DON'T: Think that your signature looks the same on all devices.
You should also consider what the signature looks like on mobile devices versus laptop. While your signature may appear magnificently on a desktop, it may fall apart and lose all those small details that you put into its design on a mobile device.
DO: Include links to Social Media.
Graphic links to your social networking profiles will give readers new ways to get to know you and illustrate the depth of your web presence.