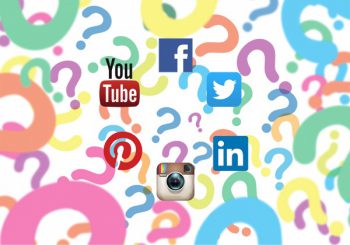 Which is the Right Social Media Network for Your Business?
With 3.4 billion internet users and 2.22 billion active social media users (as of May 2016), social media marketing is a must for any modern day business. It provides a unique opportunity to engage your audiences and interact with each and every potential client. However this doesn't occur instantly, it's important to maximize the potential of your social media by reaching your target audience.  To do this, it's essential to use the correct social media platform(s). Here's a short summary of the most significant social media platforms available to you, in order to make the process of choosing which can benefit your business a little easier.

Facebook
With over 1.55 billion active members, Facebook is the most widely used social network worldwide, by people of all ages, and can benefit businesses tremendously (see how in more detail here). Facebook is a great way for businesses to connect with existing customers, make new contacts, and get the word out about products and services. Facebook enables businesses to build long term relationships with customers by sharing content, as well as replying to their messages or queries. Whilst Facebook can be used as an advertisement method (PPC and analytics are integrated for businesses) the main focus should be to build a loyal fan base, consequently creating leads in a friendly, undemanding manner.

Twitter
Twitter is considered as a secondary channel for many brands, due to not being as visual as Facebook.  However, Twitter is suitable for customer care. Businesses can predominantly use Twitter as a customer service platform, where they can assist customers with their questions. The brand has to be proactive and analyze and improve the content and also engage with influencers to achieve good results. Arguably more "in the moment" than Facebook, Twitter can be advantageous for businesses that provide their customers with frequent information and prefers to reach people directly.

Instagram
Instagram is a creative and inspiring environment where your brand´s story will be surrounded by beautiful content. Instagram is one of the world´s largest mobile ads platforms, enabling companies to reach an engaged audience, deliver messages in a focused visual experience and publish content in a creative, high-quality environment. This is perfect for visual, niche audiences, where pictures speak louder than words. Instagram is particularly powerful when it to dependency. Studies have shown that Instagram rates highly on dependency scales, as individuals see it as essential to their everyday lives, and identify with the platform, especially within the 18-25 years old demographic.

Pinterest
Pinterest is a social networking website that allows you to organize and share ideas with others. You can share your own content as well as things that other Pinterest users have posted.  When you register for a free account, you can create your own boards to organize your content, then you can upload images and pin them to relevant boards. Other Pinterest users can browse your boards and comment on individual items. Likewise, you can browse other users' boards and like, repin or comment on their pinned items. As a result, businesses can convey their products and services visually through eye-catching photos or videos. Therefore those within industries such as fashion, foods, travel, or design can really benefit by showcasing their expertise.

LinkedIn
The creation of a LinkedIn Company Page will raise your brand awareness, promote career opportunities and educate potential customers on your products and services. LinkedIn is a social networking site designed specifically for the business community. The goal of the site is to allow registered members to establish and document networks of people they know and trust professionally. Catering more towards B2B companies (which isn't to say B2C's can't benefit), LinkedIn provides a way of growing connections within the business word in order to utilize them to your advantage.

YouTube
With more than 1 billion unique visitors per month YouTube allows you to showcase your creative content to a large audience. However in order for this to happen, your videos need to be unique and unforgettable; people aren't going to pay attention to a boring or unengaging video. Whether it's providing tutorials on how to do things, demonstrating your product or service, or introducing a product, video is a useful means of doing so creatively. On top of this, comment sections of each video can provide an opportunity to engage with your audience, as well as learn what each video did well/what could be improved upon next time.
Apart from engaging audiences within YouTube itself, video creation has many benefits (see our blog post here) in particular SEO. Therefore there's plenty of opportunity for business growth as a result of content creation on YouTube.
Ultimately, each social media platform provides distinctive marketing opportunities, meaning mixing up multiple platforms could result in a wider scope, consequently increasing overall brand engagement and sales as a result. Using 3 or so effectively and playing to each platform's strengths could provide you with the boost your business deserves. In order to capitalise on this, businesses need to manage each platform and stay active – alone or with the help of an agency- with regular posts and platform specific content. Social media is an incredibly useful tool, which only works if you put the time and effort in.