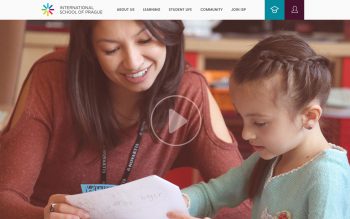 Website video will increase your sales and much more
We recently finished the new website for ISP (International school of Prague) and together with it, we produced 5 promotional videos. One of them, to be displayed on the homepage, so it's the first thing visitors see. The new website has only been live for a couple of weeks, so it's too early to tell what the effects on visitors will be, but according to experts, adding video to your website will increase conversions by up to 150%. Adding video to your website not only does increase your conversions, but it can offer you the following benefits:
1. Engage your website visitors. A video is much more engaging than text and it has been proved that visitors will stay longer on a website with videos.
2. Give your company a personality and a personal touch. It's difficult to communicate your company culture and create a personal relationship with your customers thru text and visuals.
3. Increases customer loyalty and retention. 7 out of 10 people who watch a product video will view that brand in a more positive light and will have more confidence in the brand
4. Spread the message. Visitors are much more likely to share a video than a text article.
5 .Stand out from your competition. If your competition has not yet added a video to their website, you will have a competitive advantage.
6. Be remembered. A well done video, can leave a lasting impression on your website visitor
7. Better for SEO. Having a video can increase your chance of being on the first page in Google
So take advantage of the many benefits that a video on your website can offer. You can see below the videos that we created for ISP and here, you can see other videos that we have produced in the past.