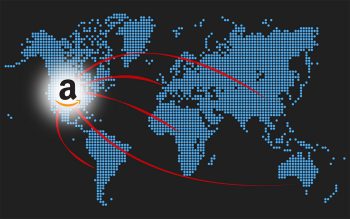 Techniques Amazon Use Online to Boost Sales
In 1995, an individual known as Jeff Bezos opened an online bookstore. Naming the company after the largest river in the world reflects the growth envisioned by Bezos, however Amazon.com has since justified this large scale ambition, surpassing $5 billion sales in just 8 years. Since its humble beginning, the Amazon we know today has diversified by selling almost anything you can think of through numerous international websites and shipping to the four corners of the globe. Amassing an estimated $88 billion gross sales in 2015 alone, it's easy to see how effective online business can be. With this success, Amazon has proved exemplary within online retail, but how can this benefit your company? Here's just a few things that online retailers can learn from Amazon.com.
User Created Content
We've said it before and we'll say it again, user created content can be hugely influential within marketing, and online retail is no exception. Within every purchasable item page, Amazon have incorporated a 'Customer Reviews' section, allowing likeminded individuals to give their opinions on products. Firstly, this is beneficial due to boosting the trustworthiness of the product. Not only does this give customers vital information on what's good/bad about the product from various sources, they can also see that others are in fact buying that product, providing peace of mind that they are purchasing from a reliable company.
You may think this is obvious, however behind the scenes, customer reviews offer much, much more. Each review provides several fresh and unique key words that help you rank higher on search engines, consequently increasing page views and ultimately sales. Free SEO optimisation and you haven't even lifted a finger. As long as the process is short and simple for users to leave reviews, this is a winning formula for everyone involved.
Amazon also allow users to leave a 'Star Rating' ranging from 1-5 stars (1 being the worst, 5 being the best) . This is a universal system which allows users to visualise the satisfaction of previous buyers, and easily distinguish between good and bad reviews. Again, this boosts trustworthiness by allowing users to make educated decisions on products based on the opinions of others.
Personalised User Experience
An overarching theme throughout Amazon's marketing approach (encompassing a number of the website's main features) is the notion of a personalised user experience. This enables Amazon to get to know their user, what items do they search, what might they be interested in etc in order to tailor each individual's journey from search to sale. This method of persuasion is used frequently and to powerful effect . By filtering out unnecessary or general clutter and replacing it with customer specific information, customer engagement is greatly increased. But how exactly do they do this?
Customer Tracking allows Amazon to make recommendations to users based on their purchase history, posted reviews and other customers who bought the item's you've searched by simply installing cookies onto your hard drive.
Personal Recommendations are provided in a number of forms when you search for a specific item, including items bought with it, what others also bought, what items others searched afterwards etc.
Gift Giving Recommendations. Through customer tracking Amazon recommend buying certain items for people. For example, If you've previously bought a toy for a young cousin and sent it to them in the post, Amazon will recommend similar toys (with the same age range in mind) which could greatly assist you when searching for upcoming birthday or Christmas presents.
Home Screen. As soon as an individual accesses Amazon.com, they are greeted with a number of banners outlining bestselling items, recommendations and sales, all related to recent searches, instantly drawing the attention of the user.
Emails even include personalised recommendations and offers, from newsletters to purchase confirmations.
Individual's Name. Even the inclusion of this small feature can increase persuasiveness. Amazon provides this as soon as you sign in with a message reading " Hello, (individual's name)" as well as using this throughout the website.
Even after you've left Amazon.com, the process still continues (learn more about remarketing here).
Two-thirds of online shoppers say that they will not shop on a poorly designed website, and wealthy online shoppers are even less likely to do so. Amazon have clearly taken this on board throughout the development of their site with a number of key features that ensure a slick, smooth and simple user experience:
Search Box. Clearly defined at the top of every page, users can make a new search at any time. The drop down arrow provides a quick and easy means to refine searches.
Navigation Bar. Situated on the left of the page, this provides all the categories and subcategories needed to seamlessly find the product you're looking for
Page Layout varies for different Products. Put simply, Amazon provides different page layouts in order to simplify the buying process for specific categories of item. Want to buy a camera? You can shop by types of camera, or even lenses, accessories, drones etc. There's also the option of searching by the type of photography you're interested in. This allows users to pinpoint a specific item simply and efficiently, without demanding users to scroll through seemingly endless lists of unrelated items.
With decades of experience under its belt, Amazon has no doubt cemented its place at the top of the online retail ladder. This has paved the way for success within this field, allowing companies to learn from them, develop, and ultimately prosper.